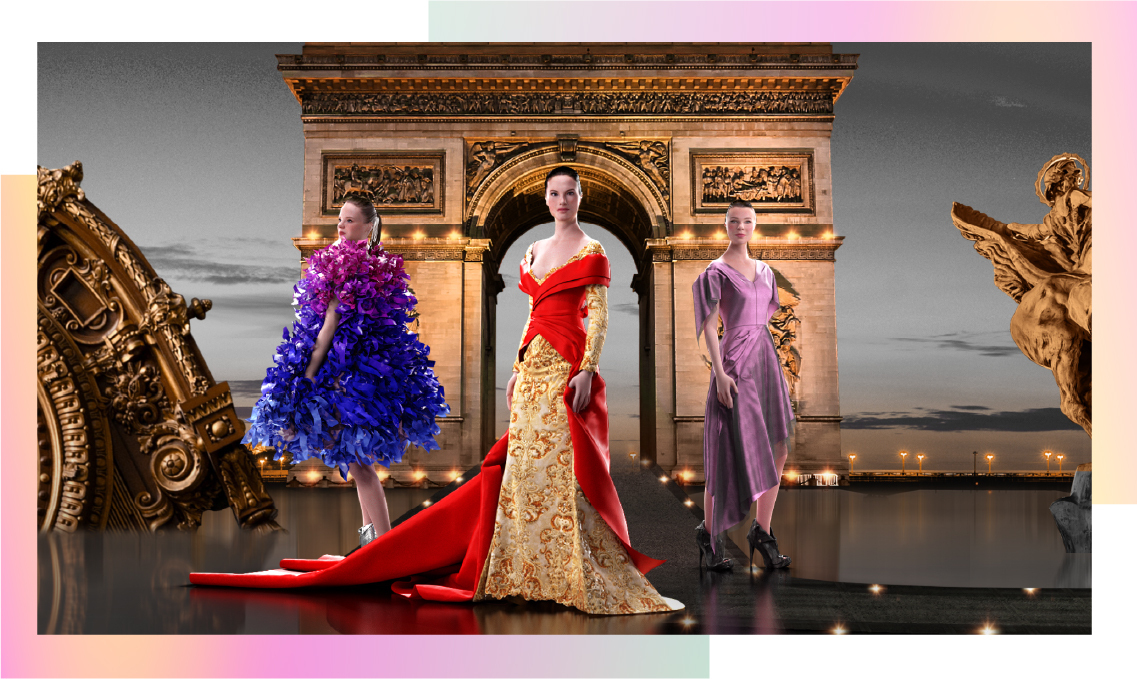 JUXTAPOSED 2023 Hong Kong Fashion in Bangkok
The fashion design talents of HK has long been recognised as one of the most sophisticated around Asia. Fashion can be an expression that speaks and represents different arts and cultures, and by Juxtaposing with other design languages and new technologies that connect people of all interests, cultures and diversities; we hope to link Fashion with a wider spectrum of mediums to reinterpret new creative forms of arts.
Riding on the tremendous success of JUXTAPOSED 2022 Fashion x Meta, JUXTAPOSED 2023 Hong Kong Fashion in Bangkok will first take Hong Kong's fashion talents overseas to Bangkok, opening as one of the highlight events of Hong Kong Week 2023. It will then be followed by a detour to Shenzhen, bringing audiences in these 2 cities, a multi-sensory feast of fashion, culture and high technology. Audience and viewers will be able to drench in the creativity of 52 HK and 4 Thai fashion talents. Outfits that are specially made by diversified generations of Hong Kong and Thai fashion designers will parade in a hybrid physical virtual fashion show production. Using the newest VR technology, the virtual fashion outfits will be paraded alongside actual and VR generated models, thus promising the audience a truly memorable and inspirational fashion presentation.
To further showcase the works of participating designers, the virtual fashion show and pop ups will be continued for 2 weeks after the opening show, allowing public in Thailand a closer encounter with Hong Kong and Thai design talents. JUXTAPOSED 2023 Hong Kong Fashion in Bangkok will aim to be an impressive and memorable presentation of not only Hong Kong's fashion design talents, but also a glimpse into our ability to bridge fashion, design, and innovative technologies; creating a mind-blowing voyage around a whole new spectrum, pinning Hong Kong to be an important innovative and creative city in Asia.
JUXTAPOSED 2023 香港時裝風尚.曼谷
香港時裝設計人才長期以來一直被公認為亞洲最具前瞻性之一。它是最重要和最著名的設計行業之一。時尚可以是一種表達和代表不同藝術和文化的表達方式,當時尚與其他設計語言和新科技並列對比,這些語言將所有興趣、文化和多樣性的人聯繫在一起。我們希望將時尚與更廣泛的媒介聯繫起來,重新演釋出嶄新的、個性化的和創造性的藝術形式。
延續 JUXTAPOSED 2022 Fashion x Meta的空前成功,JUXTAPOSED 2023 香港時裝風尚.曼谷將率先帶領香港的時裝設計人才到曼谷,作為香港週 2023的開幕重頭戲之一。及後再繞道深圳,引領這兩個城市的觀眾,領略時尚、藝術文化及高科技的多感官盛宴,讓觀眾將沉浸在52位香港及4位泰國時裝設計人才的創意中。由不同世代及多元化的香港時裝設計師專誠為此項目製作的服裝將在一場結合實體與虛擬技術的時裝匯演中亮相。使用最新的實境虛擬技術,虛擬時尚服飾將與真實及虛擬模特兒一起展示,從而為觀眾帶來真正令人難忘和鼓舞人心 的時尚展示。
為進一步展示參與設計師的作品,虛擬時裝匯演及期間限定店將於開幕後持續兩星期,讓泰國市民更近距離接觸香港及泰國設計人才。JUXTAPOSED 2023香港時裝風尚.曼谷不僅希望令觀眾對香港時裝設計人才留下深刻的印象和令人難忘的展示,更重要是可以一睹我們在時尚、設計和創新技術之間架起橋樑的能力;圍繞全新的領域創造令人興奮的航程,推動香港成為亞洲重要的創新和創意城市。​